Welcome
Mebhill Cleaning Services
Welcome to Mebhill Cleaning Services – Your Premier Choice for Professional Cleaning in Central and East London.
Looking for a reliable and experienced cleaning service in Bethnal Green, Finsbury, Holborn, Shoreditch, Southwark, Stepney, St Marylebone, Westminster, Hackney, Islington, Barking, Dagenham and Romford?
Look no further than Mebhill Cleaning Services. We are a trusted cleaning company dedicated to providing exceptional cleaning solutions tailored to meet your needs. With our skilled team and a wide range of services, we guarantee to deliver spotless results that exceed your expectations.
About Us
Why Choose Us?
Whether you need a one-off clean or regular periodic maintenance, we can develop a cleaning schedule or programme to meet your business demands and budget, whilst keeping your premises clean and tidy.
Our staff are well-trained to take all necessary health and safety precautions while cleaning your spaces.
Unparalleled Expertise
With years of experience in the industry, our team of professional cleaners is highly trained to deliver outstanding results. We pride ourselves on our attention to detail and commitment to excellence.
High Quality Standards
We believe in providing nothing but the best. Our team utilizes advanced equipment and premium cleaning products to ensure exceptional cleanliness and hygiene for your space.
Personalised Cleaning
We understand that every space is unique, and that's why we offer personalised cleaning packages to suit your specific requirements. Whether it's residential or commercial cleaning, we have you covered.
Flexible Scheduling
We value your time and convenience. Our flexible scheduling options allow you to choose a cleaning service that works best for your busy lifestyle or business operations.
Professionally Certified
We take great pride in our certifications and are committed to maintaining the high standards that it represents. Our clients are assured that they are receiving the highest quality cleaning services available, backed by our certifications and our dedication to excellence.
British Cleaning Certification Award (BCCA)
ISO 9001:2015 & 14001:2015 Certified
Our Services
What We Offer
We have extensive experience in all areas, and you can be sure that Mebhill Cleaning Services will continuously deliver these services safely, cost – effectively and to a quality standard.
Commercial Cleaning
Make a lasting impression on your clients and employees with our reliable commercial cleaning services. We clean offices, retail spaces, restaurants, and other commercial properties, creating a hygienic and welcoming environment.
Residential Cleaning
Sit back, relax, and let us take care of your home. Our residential cleaning services cover everything from regular house cleaning to deep cleaning, ensuring a clean and comfortable living space for you and your family.
End of Tenancy Cleaning
Moving in or out of a property? Our end of tenancy cleaning service ensures that your space is immaculate, meeting the highest standards of cleanliness required for a smooth transition.
Carpet Cleaning
Revive your carpets and upholstery with our professional cleaning techniques. We remove deep-seated dirt, stains, and allergens, leaving your fabrics fresh, clean, and looking as good as new.
Our Clients
Trusted and Valued
Excellent! Your services have always been excellent, which is the reason you continue to get more work from SIG
Social Interest Group
Friendly and meticulous. Two words which best describe Olu from Mebhill Cleaning! He has been cleaning our church for over 7 years.
Christ Royal Church, London
Whether it's the daily cleaning or removing the occasional bulky rubbish, Mebhill does an excellent and professional job. Very happy indeed.
IROKO Partners, London
I would highly recommend this Cleaning Company. The service they provide is excellent and they exceed my expectations every time. They always do a thorough cleaning and are very trustworthy and reliable.
Hiikots Homes, Purfleet
We are really happy with the cleaning services provided. Not only is the office clean, tidy and well managed but our cleaner keeps an eye on things for us, letting us know of any breakages or leaks. He's an asset to our company.
Paritas Recruitment, London
We have found their services very professional and the cleaning has improved to a very high standard.
The Heron, London
We are very satisfied with how clean our office is. We have never had such a positive cleaning team around the office, especially with our previous office cleaners.
ensemble, London
Our Reviews
What Our Clients Are Saying
Featured Book
How To Start A Cleaning Business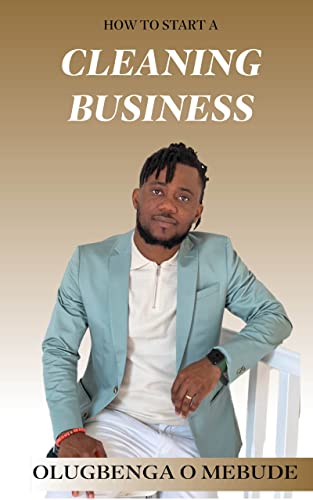 From squeaking clean, to shining entrepreneur; How To Start A Cleaning Business is more than a step by step manual on being a good cleaner. This book is put together to give practical advice and encouragement to anyone looking to start a cleaning business. Olugbenga shares his journey and takes you through the step by step process.
Authored and self-published by Olugbenga Mebude (Founder & CEO, Mebhill Cleaning Ltd.)
Buy on Amazon